Kiseitec.com
Please try environmentally friendly wood oil products that are safe for people
Wood oils produced from wood contain a good amount of phytoncide compound. It has many naturally derived effects, including insect repellent, anti-bacterial action, odor neutralization, aromatherapy, building materials and perfume, and has been drawing attention from various industries. Kiseitec promises you to contribute their achievements in studies on wood oils and phytoncide and the use of these products for a healthy life.
Product information
We provide processed products made of wood oils and technical support for our production.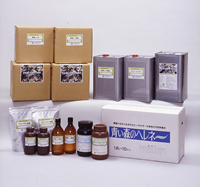 Effectively using high quality and highly purified (over 99%) oils, which are extracted from Aomori Hiba tree (Thujopsis dorabrata) and Hinoki trees (Japanese cypress), we produce middle materials such as natural hinokitiol and environmentally safe bio-chemical products that have various use. We also offer our oil extraction technique and comprehensive support for other technologies for wood oil extraction and processing such as engineering and compound examination/analysis.

This is information about hinokitiol, which has been drawing attention for its strong anti-bacterial compound and the broad spectrum anti-bacterial effects.

Here, we would like to introduce you our non-chemical terminate prevention products that contain compounds of natural insect repellent and anti-bacterial.

We have a range of wood-extracted oil and distilled water such as Aomori Hiba tree oil, Aomori Hiba tree distilled water, Hinoki oil (popular for its fragrance) and cedar oil.
Aomori Hiba tree oil Hinoki oil Aomori Hiba distilled water