Natural hinokitiol
Hinokitiol has bee drawing an attention for its strong anti-bacterial effect and anti-bacterial spectrum.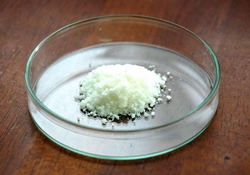 Hinokitiol is crystalline acidic compounds relatively much contained in Aomori Hiba. As other trees containing Hinokitiol, Taiwan Hinoki (Taiwan), Western red cedar (North America) are named, but Hinokitiol is not almost contained in Japanese Hinoki.
In 1936, Taiwan hinoki oil was isolated for the first time, and almost same period, a scholar of Sweden succeeded isolation of the same compound separately. In those days, it became a focus of attention due to having tropolone skeleton. Recently, the strong antibacterial activity and wide antibacterial spectrum of Hinokitiol have been revealed by Doctor Toshihiro Okabe at Aomori prefecture industrial test station, and a new attention has been focused.

Features of natural hinokitiol
1. This is high purity product (Natural product ingredients are only Hinokitiol) by our proprietary technologies. We can supply relatively inexpensive prices.
2. Hinokitiol have unusually wide antibacterial spectrum with low toxicity.
3. This product can be used as storage/ antiseptic agents of foods.
4. This product has the effects of sterilization, resolution and cell activity, and is being used for hair growth agents.
5. This product also has the effects of ethylene controls production of garden stuff and respiratory depression.
6. This product is finely dissolved (0.1% or less) and soluble to alcohol, ester and hydrocarbon solvents.
7. This product has sublimability, and makes full use of antibacterial activity by vapor dispersion in the sealed space.
Purpose of use, history of the product's delivery
Examples of practical use
Hair restorations, cosmetics for hair...sterilizing and antiphlogistic effects, activation of cells
Toothpaste...tooth growth and development, activation of cells that kill germs, elimination of bad breath
Anti-bacterial agent...textile, housing materials (interior), materials for flower wrapping
Food antiseptic...sterilizing effect, food additives
For the future
Medical use...for the prevention of MRSA, eczema, athlete's foot
Hygienic purpose (e.g. pest control)...prevention of house mites, fungus, cockroaches
Data of the minimum inhibitory concentration (MIC)
The minimum inhibitory concentration is minimum concentration of anti-bacterial agent, etc. that is required to prevent germs' growth. Lower count of MIC means higher effect of anti-bacteria. (unit: ppm)
| Bacteria | Natural hinokitiol | Sorbic acid |
| --- | --- | --- |
| Colon bacilli | 20 | 2000 |
| Bacillus subtilis | 50 | 1000 |
| Staphylococcus aureus | 100 | - |
| Pseudomonas aeruginosa | 200 | - |
| Yeast cells | 50 | 500 |
| Black mold | 50 | 2000 |
| Rhizopus fungus | 10 | 1000 |
Characteristic
Hinokitiol (extract): a degradation product of oil that is obtained after steam-distilling wood and root of Aomori Hiba tree of Hinoki tree family.
Structural fomula





C10H12O2
Chemical name
Hinokitiol
β-Thujaplicin
4-Isopropyltropolone
Chemical property
A sublimate with no colour to pale yellow crystals
Weak acid (0.1% solution pH 3.5 -4.0)
It tends to form salt after contacting to metal ion. It colours.

State property
Melting point : 50-52 ℃
Steam point: 140 ℃/torr
Solubility: soluble in water (approx. 0.1%)
Alcohol, ether
Soluble in hydrocarbon
Regulatory status
Chemical Council Number 9-1526
CAS No. 499-44-5
Cosmetic Raw Material Standards Article 2 Note 1
Safety property
Acute toxicity test LD (50) Frog
Rat
Guinea pig MLD
163±45mg/kg
650±50
1000
Chronic toxicity Persistency to body is not confirmed