Aomori Hiba distilled water
Aomori Hiba distilled water contains hinokitiol and it can be used for bathing and cleaning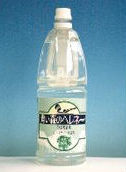 This distilled water is obtained in the process of extracting Aomori Hiba tree oil. Although the amount of the contained natural hinokitiol is few (approx. 0.02% = 200 ppm), this product still has many effectiveness along with Hiba tree oil. It is less stimulus for skins as it is distilled water and contains less minerals; you can use the product for bathing. This product is suitable especially for those with sensitive skin and eczema and old people, who are having troubles with usual soaps on the market.
■ Effectiveness of Aomori Hiba distilled water
>> Anti-bacterial effect…it prevents the growth of mold and bacteria.
>> Odor elimination effect…eliminates bad odor.
>> Relaxation effect…aromatherapy effect with Hiba tree fragrance.
>> User-friendliness…because it is water, it can be used for anything and cheaper than Hiba oil.
Features of our Aomori Hiba distilled water
Because we have a direct connection to a producing factory, we are able to produce a large amount of highly qualified Hiba distilled water for low costs.
** MSDS, Product Safety Data Sheet and Quality Analysis Sheet are available (prepared for operation purpose). Please contact us for further information.
Main purpose of use, history of delivery
Use Hiba distilled water at home
Odor elimination: shoe locker, car, pets' toilet, etc.
Anti-bacteria: kitchen-scrap collector, bathroom, cleaning of Japanese style mat and floorboard, etc.
Aromatherapy: fragrance for bathing
Use Hiba distilled water as a material
Our company's products: Kiseitec PRO series (non agrochemical terminate repellent), etc.
Used for: as a material for terminates repellent, fragrance for bathing, disinfectant for agriculture